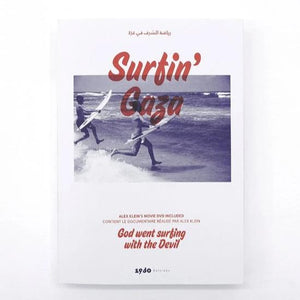 1980 Editions
Surfin' Gaza (+DVD) / Alex Klein
Regular price
€32,00
€0,00
Unit price
per
Tax included.
Shipping
calculated at checkout.
Those who can surf together can live together. These are the words of Dorian Paskowitz, who created the Surfing for Peace community with the objective of sharing the Mediterranean waves with the surfers of Gaza, because there is good surf in Israel and in Gaza too. In August 2007, Arthur Rashkovan, Dorian and his son David provided a few surfboards to the surfers of Gaza. In April 2009, Alexander Klein, a young American film director, traveled to Israel and crossed the border into Gaza. The sun shines on both sides of the wall, and in the water the rumble of conflict disappears. 
Alex captured amazing images on his adventure, which he turned into a moving documentary film. New surfboards could only follow the same way in August 2011. A story that deserved a book. Aloha.
160 p. / 150 x 212 mm

+ DVD 88'

Softcover / FR–ENG–ARB
---